Mystery Fish courtesy of Georgia Outdoors


The United States Fish and Wildlife Service has produced a short video about the Robust Redhorse Conservation Agreement which can be viewed above or found on their website.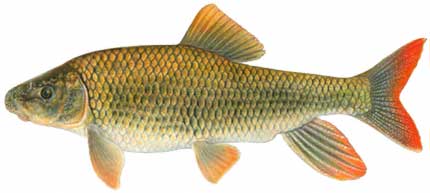 Robust Redhorse (Moxostoma robustum) drawn by Joe Tomelleri. (Image is for educational purposes only and may not be reproduced without the permission of the artist.)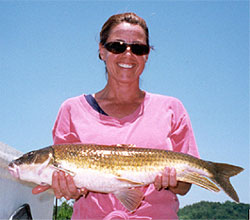 This female robust redhorse was captured from the Savannah River near Augusta, Georgia on June 6, 2000. It weighed 10.58 pounds, measured 26.34 inches long and was released alive (Dr. Shelton 2000).
Jimmy Evans, Georgia Department of Natural Resources, has been working to conserve the robust redhorse since 1991 when he first collected individuals from the Oconee River.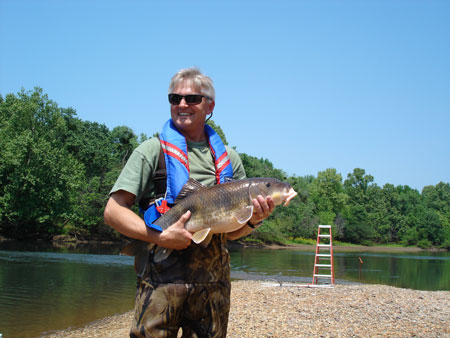 Forrest Sessions, South Carolina Department of Natural Resources (SCDNR), holds a 9 lb. robust redhorse captured on the Savanna River near Augusta, SC.
Eggs are collected from robust redhorse collected in the Savannah River for propagation.
Staff from the SCDNR are inserting a coded wire tag into fingerling robust redhorse before they are released into the Broad and Wateree rivers.
Robust redhorse spawning in the Savannah River.
This is a juvenile robust redhorse that was collected in the Wateree River South Carolina and was originally stocked in the upper Wateree River.
Members of the Yadkin-Pee Dee technical working group prepare to sample on the Pee Dee River.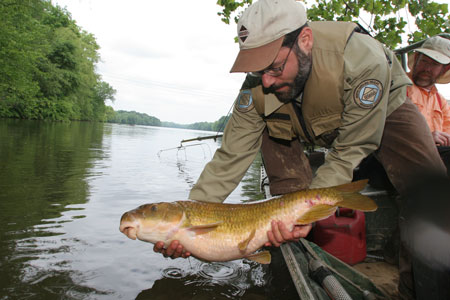 Ryan Heise (North Carolina Wildlife Resources Commission) releases an 18.6 lb. robust redhorse collected on the Pee Dee River downstream of Blewett Falls Dam. Photo Credit www.ToddPusser.com